This Contestant Reveals She Slept With Nick's Friend After He Eliminates Her Tonight on The Bachelor
With Bachelor comes Drama and tonight is an all new episode completely filled with tears, shocking revelations and six eliminations.
Tonight, Nick is going to find out that a contestant slept with his friend before filming right after he decides to send her home.
Who's the contestant? It's none other than Jasmine Goode.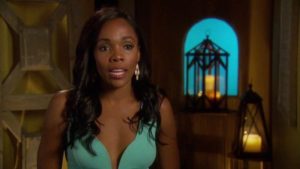 Jasmine Goode has been rather aggressive in her pursuit of Nick Viall, stating on night one that you "gotta do what you gotta do" to make an impression. Last week, she was seen kissing Nick in front of the other women and he seemed to be embarrassed by the level of PDA.
As if the season wasn't crazy enough with all the drama surrounding Corinne and Liz, Jasmine on her own brand of crazy when Nick sends her home during one of the Week 6 group dates.
And surprise, she doesn't handle the rejection very well.
When Nick tells Jasmine he's sending her home, she seems so disappointed that tells him that she slept with one of his friends before filming got underway.
Who exactly is the friend she's talking about?
That remains a mystery.