Did Bachelor in Paradise's Robby Hayes Already Cheat on Amanda Stanton?
Trouble in Paradise again for the Bachelor in Paradise star Amanda Stanton.
Just a few days after the BIP 4 couple went public with their post show relationship, there are rumors(Scroll down for proof) about Robby  kissing another girl.
Instagram users went crazy in the comment section of this picture posted by Paradise 4 star Robby Hayes.
The Bachelor Nation fans soon started to ask him where Amanda was in the pic, a Instagram user by the name of "KelseyIswan" replied, "I'm assuming she wasn't there because he was busy making out with the girl next to him at the ZBB concert last night."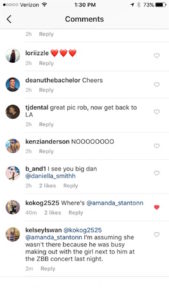 Reality Blogger Steve Carbone reached out to Kelsey, who claimed that she was sitting a couple rows behind Robby and the blonde in the pic at the Zac Brown Band at Coors Field last Saturday.
"They were all over each other," she tells him. "I'm honestly surprised no one else has come forward saying anything."
Kelsey also snapped a few pics of the make-out session, but has chosen to share those only with Amanda.