New Theory Proves Peter Weber is Engaged To Bachelor Producer Julie LaPlaca
Is this the ending he said that can't be spoiled?
A new Reddit fan theory has a guess for who Peter Weber ends up with and we're here for it.
A Reddit conspiracy theory posted by Bachelor fans say that Peter Weber actually ends up with Bachelor producer Julie LaPlaca.
Here's the list of reasons why they believe this.
Peter and Julie spent New Years Eve together with his family.
"Check her tagged pics, there's a pic from his dad with her and their family at dinner," Krallie wrote.
Peter's dad tagged Julie in a picture with the rest of the family together on Instagram.
The Bachelor producer was tagged in another photo by a friend. She posted a picture of her and Peter and tagged Julie in it.
[Note: Julie is not in the picture]
"Ey you, yeah you, happy 2020! ….. also watch @pilot_pete's season Jan 6… an unexpected ending indeed 🌹."  she captioned the pic.
[EDIT: Julie's tag in the picture has been removed since this came out.]
Julie's Instagram stories reveal that she has been spending a lot of time with Peter's family.
In an Instagram pic posted by Julie, Peter can be seen behind her.
Our very own Hannah Brown took to the comments and wrote, "This is really cute Jules. I approve. ❤️😍."
Julie wore a Seahawks hat in one photo that she was tagged in after the Bachelor finale was filmed.
And guess what? Peter is a Seahawks fan!
In the season finale promo, Peter says he's "crazy in love" with someone, but we haven't seen that with anyone on the show yet. Fans are speculating it could be Julie that he was talking about, especially after his mother tells him to bring her home.
"This happened on The Real World at least twice. I wouldn't be shocked if it's true," a fan writes.
"Wasn't there unverified tea on a Pilot message board a while back? Something along the lines of a pilot from Delta claimed Peter "ends up with a girl who wasn't even on the show." Also I saw someone post a photo of them at the airport together the other day. Why is she following him around? Is this normal? I actually like this theory. He seems way more compatible with Julie than with Madi or Hannah Ann. I also feel it's the only possible outcome that could save the whole "Peter has an ending that's never happened before" line," a fan speculated.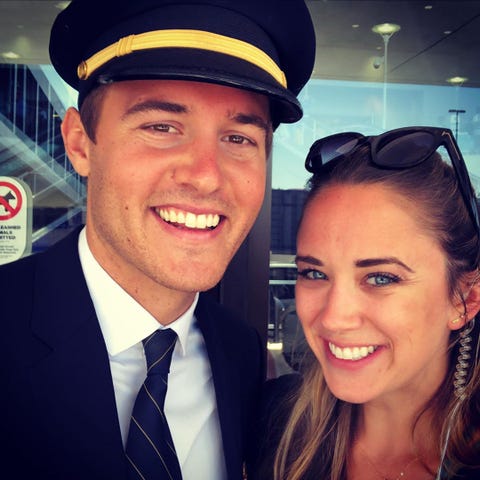 Well, after reading all these theories, all we can say is..