Kaitlyn Bristowe Emotionally Responds to Haters After Plastic Surgery Accusations
Former Bachelorette Kaitlyn Bristowe finally opened up about the botox accusations people have been throwing at her for a few months now. She has been hit with many plastic surgery rumors of late.
She was in tears while replying to the haters and it's really heart-breaking.
"I'm crying," she wrote. "Not because people tell me I'm not beautiful anymore, say I get too much Botox, and ask wtf happened to my face. I'm crying because the world we live in makes me not want to bring beautiful innocent children into it. And that kills me."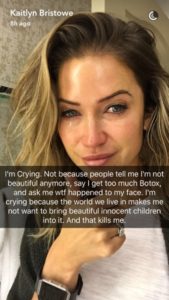 Bristowe accepted fiancé Shawn Booth's proposal during the Bachelorette's finale last summer.
The  couple have always connected with fans over social media and once reportedly announced that she and Shawn were planning a rather large family.
"They're telling friends they want five kids," a source said about the couple. "And since they both have twins in their families, that might happen sooner than they think!"