Jordan Kimball's Claims About Tinder On 'The Bachelorette'
If you've been following Becca Kufrin's season 14 of The Bachelorette, you'd know Jordan Kimball as the self- loving, self-congratulatory — but somehow still very likeable male model.
On the latest episode of The Bachelorette, he claimed to have a 100 percent swipe-to-match success rate on Tinder.
When Becca takes a few contestants on a group date, Jordan brags to the Bachelorette's fellow suitors about the fact that he has more than 4,000 matches on the app.
The Bachelor Nation on Twitter immediately called BS:
4000 tinder matches my ass #thebachelorette

— Jac? (@OhLaLa_Jax) June 12, 2018
Hey @Tinder can you tell us Jordan's swipe ratio pls? #TheBachelorette

— Grace Mulcahy (@woaitsrubygrace) June 12, 2018
"I'm pretty selective about my future partner" —— uh, isn't everyone? Well, maybe not Mr. 4000 Tinder swipes. #theBachelorette

— m_alyse_tx (@marisa176) June 12, 2018
Things Jordan has 4,000 of:
– Tinder matches
– Made up words
– Delusions#TheBachelorette

— Brian Scally (@Brian_Scally) June 12, 2018
Hey @Tinder can you confirm or deny these 4,000 matches? #thebachelorette

— The Basic Bachelor Podcast (@TheBasicBP) June 12, 2018
Jordan claiming he has 100% match rate on tinder is very questionable. More like 100% on Grindr… #TheBachelorette #nothatinjustsayin #whensthatdudegonnacomeout

— Dad_watching_bachelorette (@DadBachelorette) June 12, 2018
Tinder math is confusing. #TheBachelorette

— Bekah Berger (@BekahBerger) June 12, 2018
I've decided to make a Tinder profile just so I can swipe left on Jordan. #TheBachelorette #Jordan

— Olivia Vegter (@OliviaVegter) June 13, 2018
4000 Tinder matches in one year! That's 11 matches a day on average. I don't know if I speak to 11 adults every day, let alone have them want to date me… Yikes. The verdict is in, I am no Jordan. Darn…#TheBachelorette #TinderTitan

— Rob Neufeld (@robsaliar) June 12, 2018
Sorry but WHO is matching with Jordan on tinder? #TheBachelorette

— Bachelor Date Card (@bachelordatecrd) June 12, 2018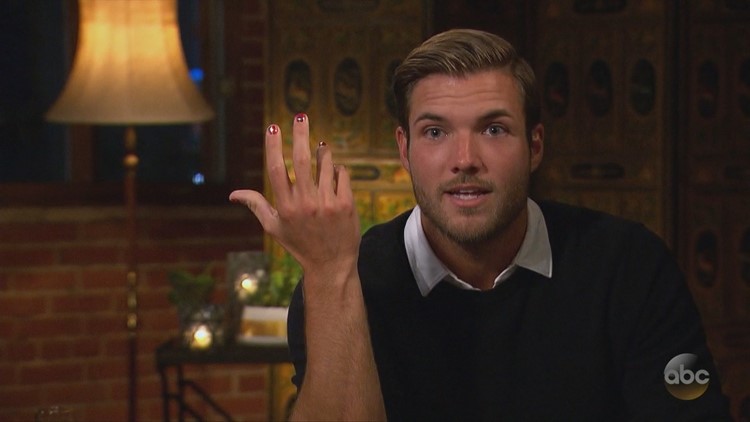 This news makes its way to Becca via David, the chicken suit guy.. another serious contender for the Bachelorette's heart!
"Cheers to you being a b*tch," Jordan says to David before walking out of the room.