Ashley Iaconetti & Jared Haibon: They're Already Talking Marriage and Babies
About a month ago, Ashley Iaconetti and Jared Haibon publicly announced with a 44-minute YouTube video that they are officially dating after meeting three years ago on Bachelor in Paradise.
"Bachelor Nation hasn't seen so many of the important details that make up our story. I thought there was no better way to explain to the people who have followed our love lives for over three years than by filming our own episode of The Story of Us." Ashley tells PEOPLE.
"Our close friends have watched our relationship evolve and understand how we've gotten to this point," Jared adds. "But people who haven't been a part of our day-to-day lives ask us 'Wait, how did this happen?' With this show, it gave me an opportunity to elaborate more than just saying 'I'm an idiot.'"
And now Ash and Jared are already talking marriage.. and BABIES!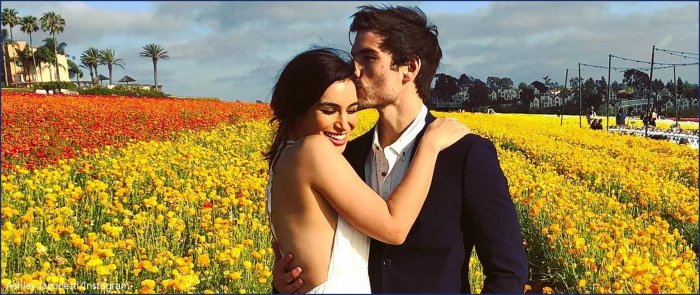 "It's been such a roller-coaster for Ashley and Jared so now that they're finally together neither of them are holding back. They've already started talking about marriage, about family, they're planning for forever," a source tells HollywoodLife. "Ashley would say yes tomorrow if he asked, but knowing Jared he'll take his time. But she doesn't have any doubts about his feelings. The way he's opened up to her and all the sweet things he's done have convinced her that he's all in this time, she's never been happier." We're a little biased, but we think Ashley will be the most beautiful bride ever."
Ashley and Jared referred to each other as "husband" and "wife" during an with People. Ashley recalled, "I said, 'Then you met your wife' [in the YouTube video], which is kind of crazy' but it's just because we talk about the future
"I think we just both see each other as lifelong partners, so it's not scary, for me personally, to call her my future wife.," Jared adds. "As soon as we started dating, we both knew that this isn't just for us to date as boyfriend/girlfriend — this was more so we were going to date because we see a potential life partner in each other."
In an interview with Us Weekly, the couple said that they do have a definite plan for future kids.
"I just keep saying that the timeline I have given him is that, like, I need to be 33 when we start trying to have kids. So it's gotta happen before then," Ashley told Us.  "He better not be stalling that long."