Amanda EXPOSES Robby on Twitter With Cheating Photo – Josh Murray Chimes In (SEE PIC)
She's got receipts! Amanda Stanton exposed Robby Hayes on Twitter with the cheating photo.
Bachelor in Paradise drama doesn't just end when the cameras stop rolling.
After last night's BIP 4 finale, Robby Hayes took to Twitter to shut down the cheating accusations made by Amanda Stanton and her Bachelor friends Emily and Haley Ferfuson.
How did it all start? When Robby re-tweeted something he shouldn't have.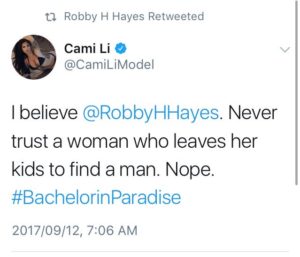 Which made Amanda do this..
Look what you made me do ??‍♀️ pic.twitter.com/5TCuv8Xtj4

— Amanda Stanton (@amandastantonnn) September 12, 2017
"The picture did look like y'all are making out, let's be honest," Amanda said last night on the BIP reunion finale.
Robby then took to Twitter to explain his side of the story.
Twitter asked me what's happening… Well let me explain… pic.twitter.com/F8kWty3Ebf

— Robby H Hayes (@RobbyHHayes) September 12, 2017
"A desperate need to present an innocent persona." – the guy who denies cheating when there is photo proof #beamanalready pic.twitter.com/GN6B9w65NR

— Amanda Stanton (@amandastantonnn) September 12, 2017
Josh Murray then responded to Robby's tweet (which he later deleted). He wrote: "100 more pages to add" about Amanda, and that it's his turn.
But screenshots are #forever